Email brad morehouse @ y a h o o . c o m ( remove the spaces) 7 1 9 - 4 2 4 - 0 0 8 4
The sound of a concrete home sounds dreary, cold, and institutionalized, but if you notice the picture to the left, humanity has entered into a new era of architecture. These 3D printed concrete homes are only limited to your imagination. Unimaginable texture, colors and architectural designs that would have never been possible until today. All of this can be created in just a couple of days at a fraction of the cost of your typical wooden house.
This new era of architecture is a game-changer compared to a stick-build-house. And to think that these homes are also fireproof, hurricane, and termite-proof could possibly change the dictionary meaning of the phrase "wooden houses." Wooden houses could soon be described as: "A once known primitive architecture that required massive trees to shelter humanity."

Experts are currently working on earthquake-resistant modeling by using computer simulations that would leave "wooden houses" in a pile of rubble.

The first person to have conceived the idea of a 3D printed concrete home is speculated to be the science fiction writer Eric Frank Russell back in 1947. Looking at the feasibility of 3D architecture today is now an unstoppable reality. 3D printed architecture is far beyond a conceptual idea as several companies have already started selling homes around the world such as Mighty Buildings in Oakland, California.

The possibility of an environmentalist and an entrepreneur working together, based on the idea that a house can be built in a day without cutting down any trees, is now a reality. There are currently different types of 3D printing methods such as building sections of the house and then piecing them together, or using a huge robotic machine that towers over a house that has the ability to build the entire home in one sitting. Regular cement or composite material can mold cement into an artistic architecture that only H.G. Wells or Jules Verne could have predicted.

3D printed architects have opened up a dozen or more new industries such as 3D printed showers or 3D printed pools. Imagine the pool slide you could make. How about a 3D printed jacuzzi? Hot tub or bathtub? Colors can be added to the cement to make beautiful concrete flooring or wall designs. 3D printed designs are beyond capable of complex architecture where in the future you can go to 3dPrintedPlans.com and download a new shower or bathtub design and then send it to 3DPrintedArchitect.com and they will have it made in a day.

The world is watching to see if 3D concrete homes will be replacing conventional wood-built houses. One indicator that an industry is about to boom is when thousands of domain names are registered from around the world. When an idea turns into a profitable market, entrepreneurs, and investors quickly secure intellectual property such as domain names otherwise known as the "dot-coms." You might laugh at this, "butt" even 3dPrintedToilets.com has been registered. It makes you think what toilets will look like ten years from now. The company Mighty Buildings just received an investment check for 35 million dollars for the development of 3D Composite Homes. When you start seeing investments like that, be ready to see in "3D," as houses and buildings will literally pop up in your neighborhood in just a day.




Every new innovation comes to the market with a particular price tag. Large concrete 3D printers, for example, had a rather high price tag when they first launched. But, just as with most technologies, the prices are dropping as new, better and more affordable products are being developed. Also helping prices to lower are new, innovative concrete mixes. As there are a number of projects dabbling in 3D printed buildings around the globe, it's impossible to give an exact price for 3D printed houses. Instead, we'll check out a few of the most recent and most promising projects and their reported prices. In general, however, you'll see that a 3D printed house can cost as low as $10,000, or sometimes even lower.
ICON – A House for as Low as $4000?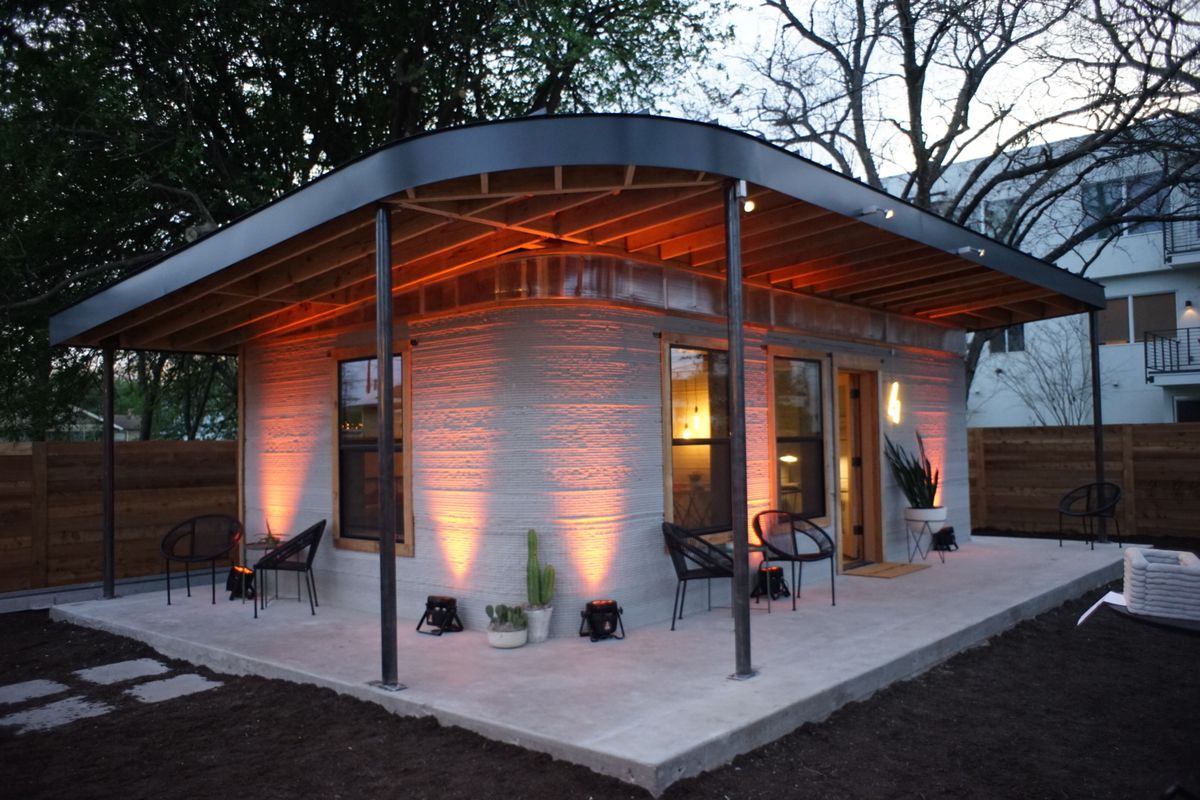 Take a look at the picture above. The house you're looking was 3D printed by a company called ICON in Texas. ICON specializes in developing low-cost construction solutions, hence why their highlight project is this 3D printed house. In collaboration with non-profit organization New Story, ICON plans to build a whole neighborhood of these low-cost 3D printed houses in El Salvador. The goal is to provide homes for people who, unfortunately, don't yet have appropriate living conditions. The prototype for the 3D printed house cost around $10,000, but the company claims that it can bring that down to only $4000, which is great news. The approximate build time for ICON's 3D printed house is roughly 24h.
Winsun – 10 Houses in One Day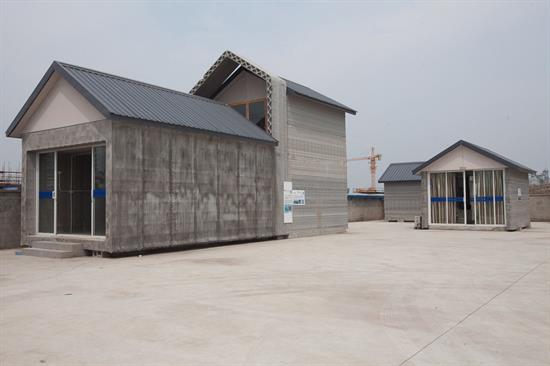 A Shanghai-based company called Winsun was a hit back in 2014 thanks to their achievement of 3D printing 10 houses in one day. Winsun used large concrete 3D printers, 10 meters wide and 6.6 meters tall. And the company claimed that each 3D printed house cost $4,800, which is surprisingly low for 2014! Although Winsun's 3D printed houses aren't that refined, they attracted a lot of public interest. The project definitely contributed to the rising number of 3D printed houses and the development of the machines that make them. Winsun is also known for producing one of the most advanced 3D printed buildings to date, which is coming up in the next section…
DUBAI's Office Building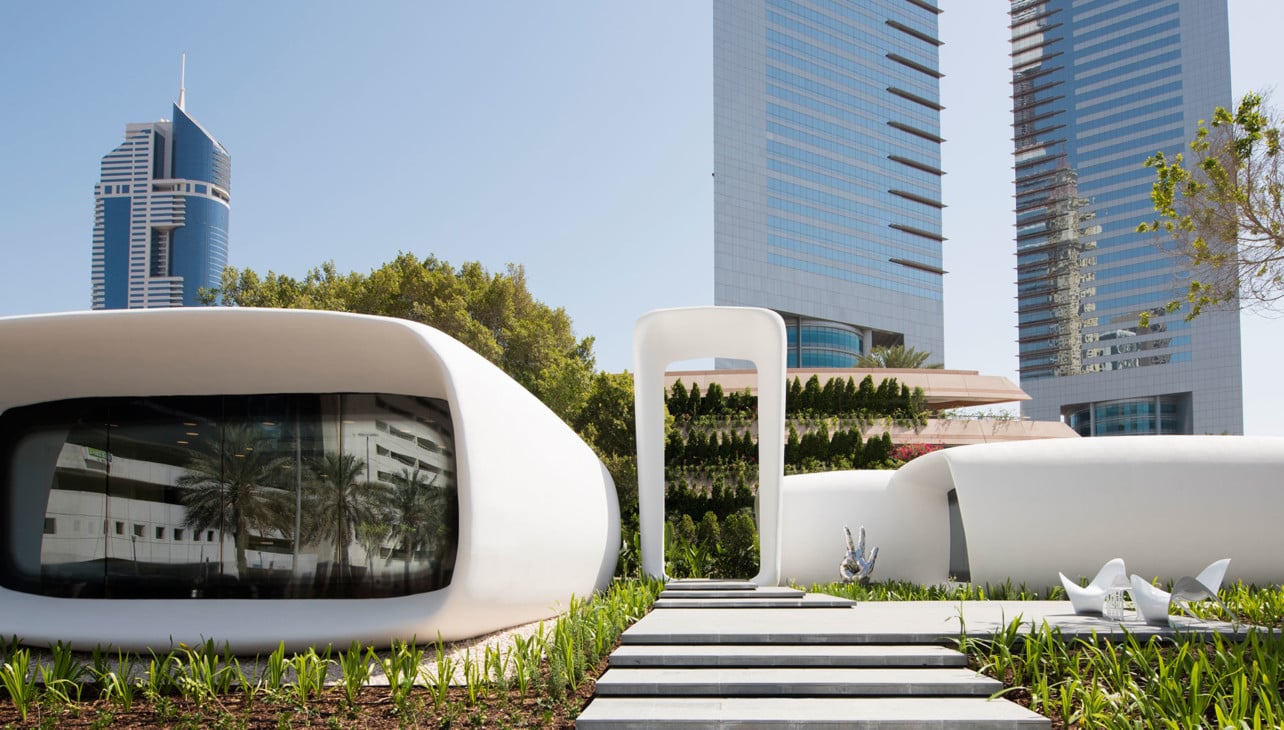 To finish off the article, we present what's claimed to be the most advanced 3D printed building in the world. What is it? A beautiful and futuristic office building in Dubai. The entire process took Winsun only 17 days to print. Up to this point, we've only been describing rather cheap 3D printed houses, but this building was a little more expensive, at around $140,000. Still, compared to how much it would have cost if it hadn't been 3D printed, the final price tag is impressively low.
There are millions of people following the buzz on the internet about "3D Printed Concrete Homes".
People are chomping at the bit waiting to place an order or contract a builder to have their own 3D Printed Concrete Home. We found 9 companies in the U.S currently developing 3D concrete printers for building homes. One company Aniwaa actually has a printer for sale for $480,000.00. One must wonder if they have sold any? The big question is when will we see a company actually buy a 500k printer and start advertising 3D Printed Concrete Homes for sale? 

At this moment no such company has started that race. Here at 3D Concrete Homes we are also chomping at the bit to purchase a 3D concrete printer and we are ready to start that race but because the technology is in its infancy stage, forking out a half a million is too risky because within a few months a better and faster printer will be on the market. 
 We scoured the internet and cannot find a single company who builds 3D Printed Concrete Homes for the public. We found several prototypes built and they generally hit the news but the companies who built them will not return our calls or emails on inquires. Since this is such an exciting industry they must be flooded with calls.
So what is holding up the public sales of 3D concrete homes? Building codes and safety is one factor but prototypes have proven to be safe even without steel rebar to reinforce the structure. Our evaluation is investments are starting to pour in and we are nearing breaking ground day. If you watch some of the videos on our video page you will be convinced that 3D concrete homes, pools, jacuzzi's and many creative inventions are the future and the future is near.


Here is a short list of 3D concrete companies.
3D CONCRETE
Balfour Beatty
Carillion PLC (PwC)
Dus Architects
Foster + Partners
HEIDELBERGCEMENT AG
Kier Group PLC
KOHN PEDERSEN FOX ASSOCIATES PC
LafargeHolcim
Sika AG
Skanska
UNIVERSE ARCHITECTURE BV
Yingchuang Building Technique (Shanghai) Co. Ltd (WinSun)